School Info
James D. Foshee
Senior High School Principal
dave.foshee@k12northstar.org
Jeannine Burnett
Senior High School Administrative Secretary
jeannine.burnett@k12northstar.org
479-4221 x9102
Address
3800 Geist Road
Fairbanks, AK 99709
School Hours
Students: 7:45 am - 2:15 pm
Office: 7:15 am - 2:45 pm
Announcements & Upcoming Events
2015-16 Budget: Community Information
Interior Alaska students go in-depth with Constitution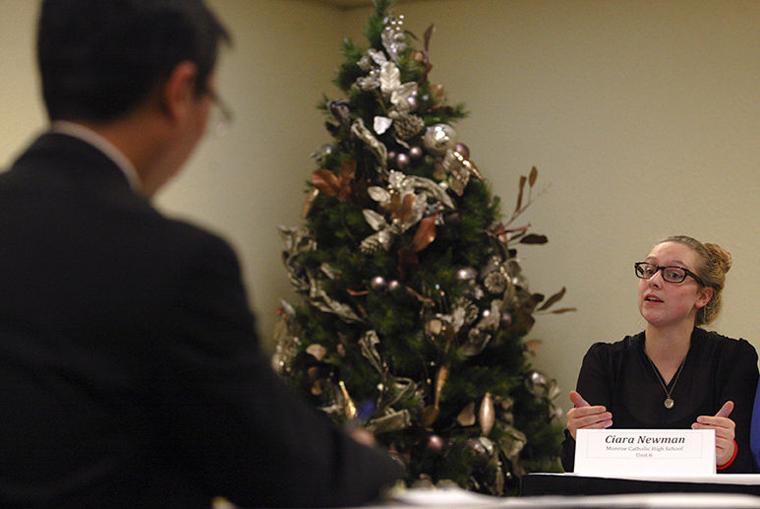 FAIRBANKS — The United States Constitution is arguably the most important document in American history, but to the average person it remains little more than an abstract talking point.
Outside of arguments between talking heads on television or in the halls of Congress, the Constitution rarely comes up in conversation.
Each year, in all 50 states and in communities around the country, the Civic Center for Education tries to change that one group of students at a time. The center coordinates competitions each spring called "We the People," to encourage high school students to study every aspect of the country's framing document.
From the process of the Constitution's creation to the philosophical framework it is infused with and the tenets it protects, students divide up into groups and attempt to collectively show as much constitutional knowledge as possible.
Read full article
Fairbanks student to represent Alaska in Washington, D.C.
FAIRBANKS — The state of Alaska announced its two delegates for the United States Senate Youth program Tuesday, and a West Valley High School student is one of them.
West Valley High School student Grant Ackerman will represent Alaska in the U.S. Senate, along with Unalaska High School student Christian Escalante. The students will represent Alaska in Washington, D.C., during a weeklong program in March.
Read full article
Volume 15 Issue 2 of the Howler now available!
Download and read the latest news and information from West Valley High School. Happy Holidays!
Revised 2014-2015 Testing Dates
The 2014-2015 spring testing dates have been revised to accommodate new state assessments.
In contrast to previous years, all students will attend school on testing days.
While the testing dates span six days, students will not participate in assessments each day during the testing window. The assessment dates depend upon the school's specific testing schedule.
Fall Sports Announcement 2014
Yearbook Ordering Information
Yearbooks available online
Order your 2014-2015 yearbook online for $60! Go to YEARBOOKFOREVER.COM, select West Valley, and pay by credit card or PayPal. Add-ons are available and prices go up at Thanksgiving time.
West Valley Closing Enrollment for Out of Attendance Area Students
West Valley Daily Bell Schedule 2014-2015
Attached is the daily bell schedule for the 2014-2015 school year. Please note that for special assemblies or events at school, we will create an alternate bell schedule and publish that for student a week in advance. Weeks with semester exams, in December and in May, have altered bell schedules as well.