School Info
James D. Foshee
Senior High School Principal
dave.foshee@k12northstar.org
Jeannine Burnett
Senior High School Administrative Secretary
jeannine.burnett@k12northstar.org
479-4221 x9102
Address
3800 Geist Road
Fairbanks, AK 99709
School Hours
Students: 7:45 am - 2:15 pm
Office: 7:15 am - 2:45 pm
Announcements & Upcoming Events
LATE AP US Hist Test
Available only for ASAA Solo/Ensemble participants
Alaska students earn top honors for scientific research
FAIRBANKS—Two Alaska students have taken home top honors at the national level for their original scientific research.
Ian Fleming, of Petersburg, and Michael Kaden-Hoffmann, of Fairbanks, received high honors at the 53rd National Junior Science and Humanities Symposium from April 29 through May 2 in Hunt Valley, Maryland.
Read full article
Patricia Behring Teacher of the Year
National History Day has selected Heather Damario of West Valley High as the state Patricia Behring Teacher of the Year. Each state winner is awarded $500 and is eligible for the National Patricia Behring Teacher of the Year Award.
"National History Day firmly believes that quality teachers are the best educational tools that students have," said National History Day Executive Director Cathy Gorn. "The teachers selected as Behring award recipients are a credit to their discipline, and exemplify what it takes to be a quality educator."
Teen getting head start on life of public service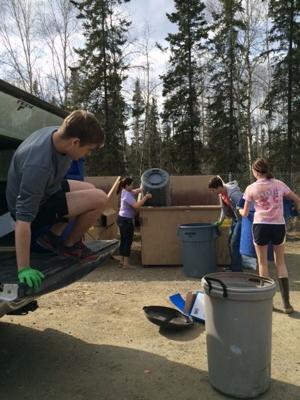 FAIRBANKS — It's no surprise West Valley High School graduating senior Grant Ackerman plans to dedicate his life to public service.
He's doing it already.
Read full article
West Valley academic decathlon team fourth in nation
FAIRBANKS — To see how strong the academics at West Valley High School are, one must look no further than the school's academic decathlon team.
The team took home fourth place in division two at the 2015 Academic Decathlon Nationals. The team placed 11th in the United States for all divisions.
Read full article
Update: Phone Access
Wednesday, May 6, 2015
In response to anonymous threatening phone calls that have disrupted operations at various schools, district schools will no longer accept calls from anonymous numbers.
This action was taken at the recommendation of law enforcement agencies, which are investigating the recent calls.

Callers with anonymous numbers can reach schools by taking steps to display their numbers prior to calling a school or by calling the administrative center at (907) 452-2000, which will serve anonymous numbers.

2015 Graduations: LIVE Streaming
High school graduation ceremonies held at the Carlson Center will be available to view on GCI channel 1, channel HD 999, via live streaming, and on video on demand the day after the event.
Thank you to GCI for providing this service for our students and families.
Fairbanks robotics team takes home first place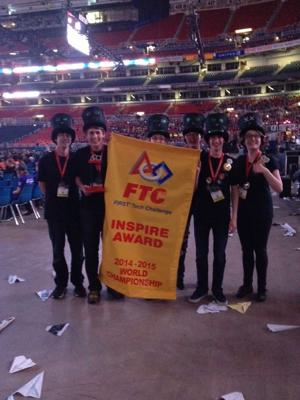 FAIRBANKS — If you spend any time around robotics, you have probably heard of Schrodinger's Hat.
This is a team of young people from Fairbanks that not only has excelled at robotics but also shared their know-how with others.
Read full article
UAF Community & Tech College present Register till Dusk
Native Youth Olympics
The NYO team competed in their last tournament of their season this past weekend. Everyone who competed placed in at least one event bringing home the tournament title with a total of 89 team points.
The team not only received the First Place Team Award but also the Team Sportsmanship Award.
Brandon Vanlandingham received the individual Male Sportsmanship Award.
Jazmine Jones, Aizah Sullivan, Genesis Blatchford, Madeline Ko, Kris Riley, Shondiin Mayo, Kirsten Greenley and Brandon Vanlandingham all placed in several different events.
The team will be traveling to Anchorage in two weeks for State competition.
Thank you Coach Angie Vanlandingham for all your hard work and dedication.
Science Symposium Winners!
Please congratulate the following students for their work this year. Participation in symposium not only requires students to conduct an independent project over the course of the year, but they also publish their results and present their findings to a panel of professors, business leaders, doctors and professionals. This year the winners were:
Physical Sciences: 1-Dawson Verley (7th overall in finals); 2-Quetzal Lubke-Laroque (5th overall in finals); 3-Abe Haas; 4-Norman Rockwell; 5-Ethan Berkland.
Plant Biology: 1-Michael Kaden-Hoffman (4th overall in finals); 2-Brooke Gottmeier (3rd overall in finals); 4-Joey Harun-DeLong
Organismal Biology: 1-Katherine Bates (1st overall in finals); 3Lina Heinrichs; 4-Aubrea Stoltz
Microbiology: 2-David Chen (8th overall in finals); 3-William Mitchell; 4-Gerrit Vreeman
Human biology: 1-Marlene Bond (6th overall in finals); 2-Angie Randall; 3-Alicia Alabran; 4-Kelin Reitano

Gregory Kahoe and Cyndie Beale
WVHS Science-(907) 479-4221x9214
2015 Alaska Science & Engineering Fair
2015 Alaska Science & Engineering Fair was held on March 21, 2015 in Anchorage, Alaska. David Chen of West Valley High School in Fairbanks won 2nd Place. He will represent Alaska at the Intel International Science and Engineering Fair in May, 2015 among three grand prize winners.
National HIstory Day
West Valley History Day participants in the state competition did very well for yet another year! When you see these students, give them a pat on the back for not only being eligible to go to nationals in June but for the tenacious hard work they each put in to prove their thesis statements through analyzing difficult to find (and read) primary documents and conducting interviews while holding true to this year's theme: Leadership and Legacy in History. The students who won 1st place will be honored at the School Board meeting on April 21st.
Thanks,
Heather Damario, Sean Genson and Nathan Holloway
Individual Website:
1st Bailey Young-- Penicillin: Leading the War Against Disease
2nd Kasey Casort--
Bayard Rustin: Leading the Fight for Civil Rights
3rd Aiden Earnest-- The Second Greco-Persian War: Uniting Greece Through Courageous Leadership
Individual Documentary:
1st Annemarie Timling--
Bach: Behind the Trend, Ahead of his Time
2nd Piper Brase-- Guy Fawkes: The Man Behind the Mask
Paper:
2nd QuinnVinlove--
Amplifying the Negative Bias, William Shockley's Leadership of Legacy
Individual Exhibit:
1st Nieca Murphy-- Bayard Rustin
Group Documentary:
1st Peyton Presler and Lauren Criss-Carboy--
McDonald v. United Airlines
2nd Jenna Johnson, Gabe Rankin, Marcus Harmon, Andrew Bray-- A Legacy Left Through Leadership: Thomas Jefferson
Senior Group Exhibit:
1st Angie Randall and Kendall Nicholson--
Picasso: The Great and Terrible
FNSBSD Volunteer Packet
Thank you for volunteering! All volunteers are required to complete a FNSBSD volunteer packet and background check. There is no cost for the background check. You may download a copy of the packet here, or pick one up in the office. Do not take the packet to the police department. Turn the packet in at West Valley's main office, or to the School District's HR department on 5th Avenue.
ASAA All State Art Awards
Please congratulate the following students on their ART AWARDS for the ASAA All-State ART Competition. West Valley did great! Out of 10 categories West Valley placed FIRST in 4 of them and had 9 students place overall! Pretty outstanding for a state-wide show! We have very talented students at this school.
Graphic Design - 1st place- Maria Frantz
Ceramics - HM - Chisana Monson
Drawing - 3rd place - Aubrea Stoltz
Jewelry - 1st place - Talor Bergan
Mixed Media - 1st place - Grant Ackerman
Multicultural - 1st place - Angelica Kougl
Painting - 2nd place - Aubrea Stoltz
Printmaking - 2nd place - Sasha Gorda
Photography - HM - Kris Veronin
Volume 15 Issue 2 of the Howler now available!
Download and read the latest news and information from West Valley High School. Happy Holidays!
Fall Sports Announcement 2014
Yearbook Ordering Information
Yearbooks available online
Order your 2014-2015 yearbook online for $75! Go to YEARBOOKFOREVER.COM, select West Valley, and pay by credit card or PayPal. Order before May 1st.
West Valley Closing Enrollment for Out of Attendance Area Students