School Info
James D. Foshee
Senior High School Principal
dave.foshee@k12northstar.org
Jeannine Burnett
Senior High School Administrative Secretary
jeannine.burnett@k12northstar.org
479-4221 x9102
Address
3800 Geist Road
Fairbanks, AK 99709
School Hours
Students: 7:45 am - 2:15 pm
Office: 7:15 am - 2:45 pm
Announcements & Upcoming Events
West Valley High School library hosting night of jazz, poetry
The West Valley High School library is hosting its ninth annual evening of jazz and poetry in which high school clubs compete against each other to raise money for a local Fairbanks charity.
Read full article
UAF Community & Tech College present Register till Dusk
W. Valley senior takes 1st at science symposium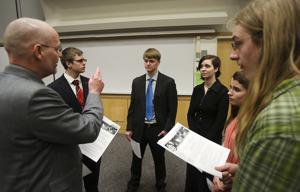 FAIRBANKS — Katherine Bates covered her face in her hands when she found out she won the Alaska High School Science Symposium.
Bates, a senior at West Valley High School, found out she had taken first place in the statewide competition March 29 for her work researching the effects of estrogen on the habits of obsessive compulsive mice.
Read full article
New Teacher Evaluation Process
Parents can learn more about the new teacher evaluation process and provide feedback to the district administration at the link below.
Native Youth Olympics
The NYO team competed in their last tournament of their season this past weekend. Everyone who competed placed in at least one event bringing home the tournament title with a total of 89 team points.
The team not only received the First Place Team Award but also the Team Sportsmanship Award.
Brandon Vanlandingham received the individual Male Sportsmanship Award.
Jazmine Jones, Aizah Sullivan, Genesis Blatchford, Madeline Ko, Kris Riley, Shondiin Mayo, Kirsten Greenley and Brandon Vanlandingham all placed in several different events.
The team will be traveling to Anchorage in two weeks for State competition.
Thank you Coach Angie Vanlandingham for all your hard work and dedication.
Science Symposium Winners!
Please congratulate the following students for their work this year. Participation in symposium not only requires students to conduct an independent project over the course of the year, but they also publish their results and present their findings to a panel of professors, business leaders, doctors and professionals. This year the winners were:
Physical Sciences: 1-Dawson Verley (7th overall in finals); 2-Quetzal Lubke-Laroque (5th overall in finals); 3-Abe Haas; 4-Norman Rockwell; 5-Ethan Berkland.
Plant Biology: 1-Michael Kaden-Hoffman (4th overall in finals); 2-Brooke Gottmeier (3rd overall in finals); 4-Joey Harun-DeLong
Organismal Biology: 1-Katherine Bates (1st overall in finals); 3Lina Heinrichs; 4-Aubrea Stoltz
Microbiology: 2-David Chen (8th overall in finals); 3-William Mitchell; 4-Gerrit Vreeman
Human biology: 1-Marlene Bond (6th overall in finals); 2-Angie Randall; 3-Alicia Alabran; 4-Kelin Reitano

Gregory Kahoe and Cyndie Beale
WVHS Science-(907) 479-4221x9214
West Valley AMP Testing Schedule
Tuesday, March 31st: 9th Grade English Language Arts
Wednesday, April 1st: 9th Grade Math
Friday, April 3rd: 10th Grade Science
Tuesday, April 7th: 10th Grade English Language Arts
Wednesday, April 8th: 10th Grade Math
Revised 2014-15 Calendar
Tuesday, March 24, 2015
The 2014-15 calendar was revised in response to an inclement weather closure.
The last day of school for students has been adjusted to Thursday, May 21.
School calendars are available for subscription in any preferred calendar program.
To subscribe to school calendars:
• Visit the Calendar page on your school website
• Click boxes to customize calendar feed
• Click iCal to generate customized calendar feed URL

West Valley students' art shines in national contest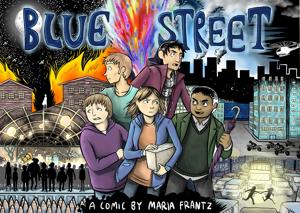 FAIRBANKS — Two West Valley High School students are breaking into the national art scene.
Tanner Rhines and Maria Frantz were listed among the best young artists in the nation from hundreds of thousands of student entries by the Scholastic Art and Writing Awards on Monday.
Read full article
2015 Alaska Science & Engineering Fair
2015 Alaska Science & Engineering Fair was held on March 21, 2015 in Anchorage, Alaska. David Chen of West Valley High School in Fairbanks won 2nd Place. He will represent Alaska at the Intel International Science and Engineering Fair in May, 2015 among three grand prize winners.
Gatorade Player of the Year
Congratulations to West Valley High School for being home to Gatorade Alaska Girls Basketball Player of the Year Ruthy Hebard for a second season!
The Gatorade Player of the Year award honors top high school student-athletes in 12 varsity sports for their athletic excellence, academic achievement and exemplary character. Due to a rigorous selection process, this award has become one of the most prestigious in high school sports.
Visit www.gatorade.com/poy to learn more about the program. Way to go Ruthy!
Academic Decathlon
Our Acadeca team won the state championship with some of the highest scores of any teams in the last few years. This means that we will be representing Alaska at the National Competition in Garden Grove, CA in the middle of April. Of the top 12 scorers in the state, 7 were from West Valley and earned a combined $11,000 in scholarships to schools of their choice.
Team members: Atticus Geiger (top score in the state), Raymond Hogenson, William Mitchell, Robbie Hartman, Joseph Wolf, Michael Kaden-Hoffman, Aaron Butteri, Jack Phipps, Harrison Owen, Jordan Centeno, Garrett Monroe, Colton Neumeister, and Maddie Baumgarten.

Thank you coach Coby Haas for your dedication to WV team.
National HIstory Day

It's History Day season once again! The following students placed at the Regional History Day Competition, and will now revise their research projects to compete at the State Competition in the next month. It's practically a tradition now that West Valley dominates the Regional and State competitions. This year, North Pole HS really showed up with some fine projects and gave us some serious competition. Hopefully, NPHS and WVHS projects will dominate the State contest and make another proud showing at the National Competition in June.
Congratulate the following students for their impressive work seeing through a long term research project that they began in September and they'll continue to revise for State and hopefully Nationals.
Piper Brase "Guy Fawkes: The Man Behind the Mask" 1st Place Individual Documentary
Annemarie Timling "Bach: Behind the Trend, Ahead of his Time" 2nd Place Indiv. Doc.
Peyton Pressler & Lauren Criss-Carboy "McDonald v. United Airlines" 2nd Place Group Documentary
Jenna Johnson, Gabriel Rankin, Marcus Harmon, & Andrew Bray "Thomas Jefferson" 3rd Place Group Doc.
James Hoodecheck "John Entwhistle" 2nd Place Individual Performance
Nieca Murphy "Bayard Rustin" 2nd Place Individual Exhibit
Sasha Gorda "Ivan the Terrible: Legacy of the Ruthless Autocrat" 3rd Place Indiv. Exhibit
Alana Kilby "Mystery Manor: The Evolution of the Crime Mystery Novel" Honorable Mention Indiv. Exhibit
Angie Randall & Kendall Nicholson "Picasso: the Great and the Terrible" 1st Place Group Exhibit
Kasey Casort "Bayard Rustin" 1st Place Individual Website
Bailey Young "Penicillin: Leading the War Against Disease" 2nd Place Indiv. Website
Madeline Ko "Walt Disney" 3rd Place Indiv. Website
Aidan Earnest "Greco-Persian War" Honorable Mention Indiv. Website
Thank you for your support of our Global Studies Department endeavors, which, aside from our core and elective classes, include research and performance/presentation projects through National History Day, We The People simulated Congressional hearings, Model UN, Veterans History Project documentaries, and other programs.
Congratulate these students for their diligent research and creativity in presentation.
Thank you,
Sean Genson & Heather Damario
FNSBSD Volunteer Packet
Thank you for volunteering! All volunteers are required to complete a FNSBSD volunteer packet and background check. There is no cost for the background check. You may download a copy of the packet here, or pick one up in the office. Do not take the packet to the police department. Turn the packet in at West Valley's main office, or to the School District's HR department on 5th Avenue.
Scholastics Art Awards
Congratulates to the following ART students! West Valley had the most submissions accepted and the most GOLD KEY AWARDS in the state! Way to go West Valley Artists! We also had 3 out of the 5 American Vision Nominations. The Gold Key Award winners and the American Vision Nominations will go on to compete in the National competition.
Aubrea Stoltz – 2 Gold Key Awards, American Visions Nominee
Linda Rexford – Honorable Mention
Ksenia Gayvoronskaya – Honorable Mention
Hannah Chowaniec – Gold Key Award
Sasha Gorda – Silver Key Award
Maria Frantz – Gold Key Award, Silver Key Award, Honorable Mention
Tanner Rhines – 4 Gold Key Awards, Silver Key Award, 4 Honorable Mentions, 2 American Vision Nominations
Christian Baldwin – 2 Honorable Mention Awards
Grant Ackerman – Silver Key Award
Maddy Case – Honorable Mention
Samantha Clemons - Gold Key Award
Angelica Kougl - Silver Key Award
Chisana Monson - Honorable Mention
Volume 15 Issue 2 of the Howler now available!
Download and read the latest news and information from West Valley High School. Happy Holidays!
Fall Sports Announcement 2014
Yearbook Ordering Information
Yearbooks available online
Order your 2014-2015 yearbook online for $70! Go to YEARBOOKFOREVER.COM, select West Valley, and pay by credit card or PayPal. Add-ons are available and prices go up February 18th to $75.
West Valley Closing Enrollment for Out of Attendance Area Students
West Valley Daily Bell Schedule 2014-2015
Attached is the daily bell schedule for the 2014-2015 school year. Please note that for special assemblies or events at school, we will create an alternate bell schedule and publish that for student a week in advance. Weeks with semester exams, in December and in May, have altered bell schedules as well.